Three generations of the Lassiter family have been instrumental in the growth of City Transfer and Storage since its beginnings in 1908.  Our grandfather, I.M. Lassiter started City Transfer and Storage that year with a team of mules & horses, a wagon and a vision for a company that would haul just about anything – as long as it fit in the wagon.
With the operations centered near the railroad tracks in High Point, N.C. the company soon found a ready clientele that appreciated its emphasis on customer service. As the business grew, Lassiter added a partner, Wayne Williard. Together they continued expanding the business, hauling freight that ranged from dirt to railroad passengers' luggage.
Even the livestock seemed to understand the company's emphasis on service. A mule team once left its driver behind at a stop, headed straight to its next delivery and backed up to the loading dock on its own to deliver the goods.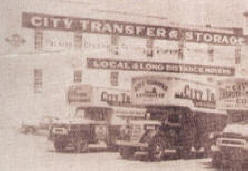 As horseless carriages came on the scene, the partners decided it was time to modernize and make a change from their horse-pulled wagon to a truck. When the truck arrived on a rail car, it was High Point's first. Not all of the customers were ready for this latest form of transportation and some still asked for service using the wagon.
Eventually, Williard left the business, selling his share of the company to I.M. Lassiter's sons, Carter and William "Mac" Lassiter. Working with their father, they began expanding the company in new directions. By the 1950s, City Transfer and Storage was no longer just a local mover, but also was servicing customers' needs for long-distance relocations.
In 1961, the company moved to a new, larger building on Redding Drive in High Point.  This location remains the High Point office and warehouse. Soon, City Transfer and Storage had extended its services to include commercial storage, corporate relocation and crane work.
Carter Lassiter's wife Doris also became active in the business in the 1960s, serving as corporate secretary and handling many office functions. The couple's sons – Bart, Ron and Scott Lassiter – literally learned the business from the ground up, cleaning out dirt that collected under truck scales in the parking lot and sweeping warehouse floors as youngsters.
Each of the sons headed off to college anticipating a career outside of the family business. But one by one, each of the brothers found a need and a niche within the business and returned to City Transfer and Storage.
When their uncle "Mac" Lassiter retired in 1986, Carter Lassiter's sons purchased his interest in City Transfer and Storage. Working together with their parents, the Lassiter brothers continued to grow and diversify the business. In 1988, City Transfer and Storage affiliated with and purchased stock in Atlas Van Lines, becoming one of the agents that own Atlas today.
In 1994, the company expanded to Winston-Salem, with its purchase of the Atlas office there. After Doris Lassiter died in 1995, followed by her husband Carter in 1998, the business passed to their sons.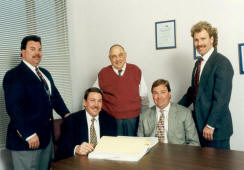 Today, Bart, Ron and Scott Lassiter are the executive management team at the helm of City Transfer and Storage.  Individually, their diverse strengths allow each brother to take responsibility for a segment of the business.  Together, Scott, Ron and Bart use their expertise and experience as they continue to grow the family business known for a century of customer service excellence.