Portable Moving and Storage Solution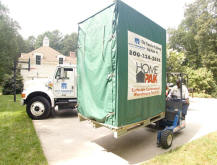 Need more space?  Instantly and easily create more room in your home by storing items in our personal mini-storage unit that you load yourself.
Our HomePak™ mobile storage units are delivered to your home or another location where you can load it with items you wish to store. We return 72 hours after drop-off, to pick up your filled & locked unit for secure, climate controlled storage in our warehouse. When you need access to your unit, let us know.  We'll place it on our dock so you can retrieve items you need or add additional items.
The units are perfect for storing seasonal items, garage or attic overflow and college students' between semester gear.  They can be used for temporary or long-term storage.
If you'd like to talk with us about Mobile Storage, please call (800) 476-9844