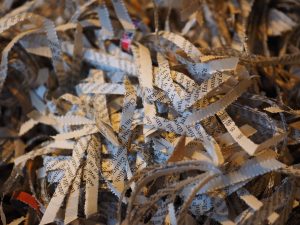 When the files you've stored with City Records Storage are no longer needed, we can confidential and complete document destruction. Many businesses and professional offices find that a regular document destruction schedule is the preferred way to manage the many files their business generates.
We use the latest commercial-grade shredding equipment to ensure complete destruction of your files. And before beginning destruction of a document, we require several layers of approval to ensure that the correct documents are destroyed.
When you provide us with an order to destroy a document, we:
Use our computerized bar-coded filing system to retrieve the document. 

Verify the control number.

Ask you to verify that the proper item has been retrieved. 

Require your signature on a form seeking destruction of that document. 

Destroy the document in our industrial-strength shredding equipment.

Provide you with a "certificate of destruction" certifying that the document has been destroyed. 
For more information about our document destruction services please call (800) 476-9844