Warehousing & Distribution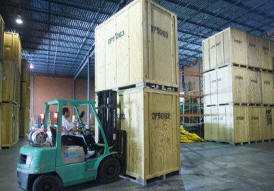 Many companies who wish to streamline their operations rely on City Transfer and Storage for flexible warehousing and distribution services.
With our large climate controlled warehouses and full complement of forklifts, cranes, tractor-trailers, trucks and other heavy equipment, we can handle all your logistics needs freeing you to concentrate on other areas of your business.
When you partner with City Transfer and Storage for warehousing and distribution there's no need to tie up your resources in equipment and space commitments. Outsourcing these services through us provides you with professional warehouse management services without the capital investment.
Our services include the secure storage of:
Product inventory.

Bulky items such as store displays and trade show exhibits.

Surplus equipment.

When we serve as your regional warehouse and distribution center, we will:

Accept delivery of virtually any product, from hot tubs to furniture. Provide secure space in our warehouses until you make the sale.

Handle your shipments and even provide in-home placement of products for customers.
For additional information about our warehousing & distribution services, please call (800) 476-9844