Record Storage / Management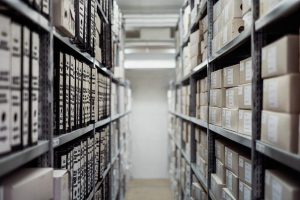 Are your record storage needs outgrowing your in-house capabilities? Are you concerned about the security of your on-site records? Have you found there's little cost benefit in utilizing prime office space for storage of files? Consider joining the many businesses, medical firms, law offices and other organizations that utilize the secure, off-site record storage & management provided by City Transfer and Storage. Working with you, we tailor a records storage and management plan that's tailored for your company's needs.  Included in our services are a sophisticated bar-coded system that ensures the confidentiality and security of your records while providing easy, convenient retrieval of files. You can store active, semi-active or archival files and records with us. We even can mirror your filing system, so the files we store are as easy to locate as those you have in the office.
We can store records in virtually any format:
Individual paper files.

Boxes of paper records.

Magnetic media, including tapes, reels, cartridges, CDs, DVDs and disks.

Film, such as microfilm and microfiche.
How our system works:

All information is managed via a computerized data management system. Once we receive your records, we assign an individual control number to each item. We then print and affix bar-code labels to all items, compile a physical inventory of stored records and enter that data into our system. This ensures accurate and fast retrieval of items when you need them. Using our bar-code computerized system, we monitor and record file movements on a daily basis, ensuring the security and confidentiality of your records. Only those on your list of authorized viewers can gain access to your records In addition to retrieval of records at our site, we offer you the option of scheduled, rush or emergency delivery of stored items. All it takes is a call, and documents are on their way to you.
When you no longer need the records or need to securely discard these materials, we can also handle document destruction on your behalf.
The advantages of our off-site records storage include:
Availability of more on-site office space for your company's other functions.

Cost savings from utilizing lower-cost warehouse space rather than office space for storage.

Climate control for document preservation.

Increased security of an off-site location.

24-hour, 365-day access to your files.

Pick-up and delivery options: including scheduled, rush, and emergency services.

Total owner control of record access.

Guaranteed confidentiality.
For additional information about our records storage, please call (800) 476-9844