City Transfer & Storage in the Triad Area Corporate Relocation Guide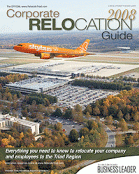 Stretching back across three generations, and celebrating its 100th anniversary this year, City Transfer & Storage has provided transportation solutions across North Carolina, the country and the world.
The High Point-based company began in 1908, when I.M. Lassiter founded a moving company based around a team of mules and horses and a wagon. The company's growth was fueled by the city's proximity to the railroad, and I.M. Lassiter stayed on the cutting edge of the moving business when he purchased the first automobile in the town.

After World War II, I.M. Lassiter's two sons, Carter and William, joined the family business, continuing to expand the company's services to reach across the United States and adding storage and crane services.
As time passed, Carter had sons: Bart, Ron, and Scott. These boys worked around the family business, cleaning trucks and sweeping floors. Eventually, each went off to college.
"I graduated college in 1975 and came to work for my dad right after that in management," says Bart Lassiter, who, along with his brothers, now owns the company. "My brothers followed the same pattern; we all went to college and came into business as we all finished school."

The family-oriented nature of City Transfer & Storage is one of its defining characteristics. Another one is an attention to quality that has propelled the business to great success and numerous accolades.
"Two things come to mind for a company to survive for 100 years and have the same family to have managed it for that period of time," Lassiter says. "Number one is quality of service, and the second thing is that we have the world's greatest employees here. That is what's been able to sustain us: giving the customers the quality service and being able to provide that service with the professional folks that work with us here."

Under the guidance of the four Lassiter brothers, these professionals at City Transport and Storage pride themselves on providing a varied and comprehensive range of transportation and storage services.

"We're very diversified. As my dad said, 'We've got several spokes in the wheel,'" Lassiter says. "The biggest spoke is the household goods moving through Atlas Van Lines. We also do office moving, warehouse and distribution, crane and rigging work with heavy equipment, off-site record storage and custom packing and crating.

"Another spoke in the wheel that has come up lately, in the last five years, is that we do a tremendous amount of international business, helping to move a company's employees as they take a tour of duty at overseas locations."

No matter what the service provided, City Transfer & Storage makes it a priority that the company performs beyond expectations for its customers. That priority is best exemplified by the company's "Goldfish Standard."

"Everybody has a 'Gold Standard,'" Lassiter says. "We have a 'Goldfish Standard.' The story behind that is that we relocated a family who, at the last minute, decided that they wanted their goldfish to be moved. Of course, the kids were excited that they weren't going to get rid of the goldfish.

"Now, our policy is that we don't relocate pets of any kind, but my driver, being the kindhearted soul that he is, took it upon himself to put the goldfish in the cab of his truck. Actually, during the transition, the goldfish went bottom up, but the driver managed to revive it and it survived the move."
With such an emphasis on quality service and customer satisfaction, it is not surprising that City Transfer & Storage has won numerous awards over the years. As a stockholding agent of the Atlas World Group, a collection of relocation and logistics companies, City Transfer & Storage has won the prestigious Milton M. Hill quality award four years in a row, as well as the Hauling Excellence Award for 10 straight years.

Among all these awards, perhaps no honor more perfectly fits a company and family celebrating its 100-year anniversary than the four Lassiter brothers' father, Carter Lassiter, being inducted into the North Carolina Transportation Hall of Fame this coming October.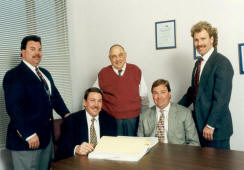 So while City Transfer & Storage may cast a reverent eye to the past in the coming year, the company, like the multi-spoke wheel that Carter Lassiter referred to, will keep rolling into the future with a focus on quality, professional service.
Business Leader Media is a leading business-to-business media and information company serving business executives and entrepreneurs.